This week, a look at the new range extender from TP-Link, and new research indicates that kids benefit from learning to print and write cursive. But first, it's time to forget everything you were led to believe about creating strong passwords.
Guy who created all those password rules apologizes, admits they are no good
You can forget all those password rules that have been drilled into your brain.
Mixing up upper and lower case letters, using numbers and symbols and making the arrangement of the characters random is, it turns out, a waste of time.
The guy who came up with those requirements, Bill Burr, told the Wall Street Journal, "Much of what I did I now regret."
It turns out that those rules made it so difficult for people that most of us have not really followed them, which has made things easier for the hackers.
The new standards eschew mixed-up, random characters for long, easy to remember phrases.
In Burr's defence, there wasn't much research on the vulnerability of passwords when he came up with his document back in 2003.
Since then there have been dozens of data breaches and millions of passwords have been leaked, which has provided insight into the passwords that people use.
Not to mention the basic math behind it all clearly demonstrates that phrases of words are harder for computers to crack than are passwords made up of mixed up characters.
This idea was captured six years ago by Randall Munroe in his online comic xkcd.com.
All we need to do now is get all the companies out there to change their password rules. How long do you think that's going to take?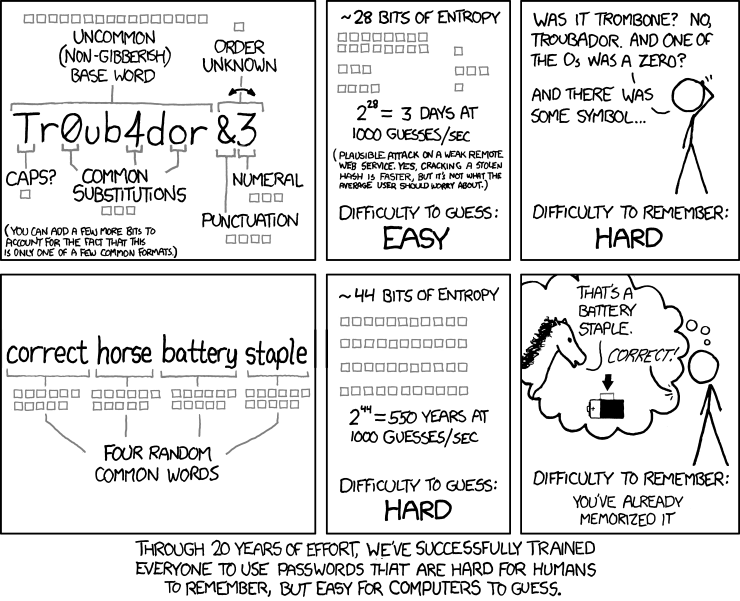 TP-Link top notch range extender boosts wireless networking performance in larger homes
I've been using a TP-Link router since last fall. The Archer C3150 supports multiple users and automatically switches to the band that is ideal for the device connecting to it.
My home WiFi has gotten even better in the past couple of weeks because I've augmented the C3150 with the TP-Link AC2600 RE650 range extender.
The device plugs into a power outlet a couple of rooms away from my router. The extender actually helped me find the best place to put it with a built-in signal light.
Not only does the RE650 boost the range of my WiFi, but it also give me an ethernet port that I can plug other devices into, which gives a more robust connection that just wireless alone.
And I can select specific devices on my network that I want to prioritize, and the RE650 will send a specific signal to that device with what TP-Link calls "beamforming technology".
TP-Link home networking devices are great because they perform well and are priced cheaper than those from other manufacturers.
And they are more available because Walmart Canada has started stocking the devices. The AC1900 dual-band gigabit router from the company is only $130 at Walmart, and the RE450 AC1750 range extender, a slightly less powerful device than the RE650 I've been using, is $120.
Why kids need to learn handwriting, too
Occupational therapists and child development specialists have found a link between infant crawling and the ability of older children to print and write. It turns out that there's good reason for kids to continue learning how to communicate with pen(cil) and paper.
Research being conducted in Seattle at the University of Washington, and referenced in the Washington Post and Quartz, indicates that kids communicate faster, using more words and more ideas, when printing or using cursive when compared to keyboarding.
It seems as though writing engages our brains differently and is related to better information retention.
Not to mention being able to sign a legal document.